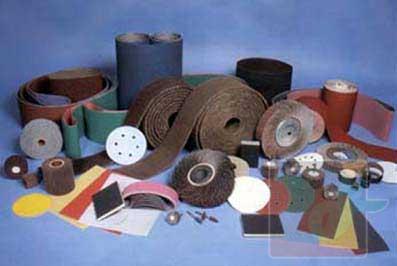 The abrasive sanding belts are the belts used on flat surfaces for the removal of small particles. The belt offers high performance and its application area involves grinding, deburring, and polishing.
The belt is made from several minerals, resin systems, and backing, which makes them apt material to be used on wood, metal, and hard to grind surfaces. The belt is very commonly used in metalworking applications. In aerospace, the belt is used by a large number of aircraft manufacturers. The belt can be used on a number of materials like aluminium, carbon steel, iron and other similar metals used in the aerospace market. In the heavy industrial environment, the sanding belt is used against the hard metals.
The belt is quite helpful in increasing productivity and reducing the costs, which results in more profits. It is dust-proof in nature and is a flexible abrasive tool that belongs to the category of coated abrasives. It is safe to use, produces very little noise and dust. It is easy to control and light in weight. The best part is, it is highly flexible and adaptable in the grinding process.
The abrasive sanding belt is highly popular with users because of its easy operation, wide application range, and high efficiency. It can easily process copper, aluminum, and other non-ferrous metals. The non-metallic soft metals can also be easily processed be it wood, plastic or leather. In the market, the belt is available in a variety of sizes, length, and width.
There are many manufacturers and suppliers, who deal with abrasive sanding belts and provide them at very cost-effective prices. There is a huge demand for such belts owing to their uses and benefits. The belts are made from the high-quality raw materials, sourced from the most authorized vendors in the industry. The exporters ensure use of the latest technologies for the production of the abrasive sanding belts in order to maximise client satisfaction. All the belts are manufactured in accordance with the prescribed quality standards and the guidelines, set by the industry. The renowned exporters are well-capacitated to meet the bulk requirements of the market on a timely basis
Thus, it can be concluded that the abrasive sanding belts are irreplaceable and the exporters dealing with them are earning huge revenues.